Social Media Writing & Management Services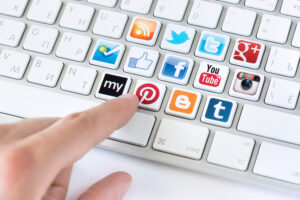 What are your business's social media management needs?
Is it that you know it's important, but just don't seem to have the time? In a world of pressing projects, customers, and clients, is social media management the one thing you always intend to do, but the easiest to let slip off your list?
Is it that you struggle to find good things to post about? That you're feeling a little lost and overwhelmed with posting in general, not sure how to find and post content and information that your target audience will actually take an interest in?
Is it that you post on a regular basis, but you don't seem to be engaging with your followers and your community? No one "likes" you? No one seems to actually see your posts and content?
Is it that every time you think you have a handle on things, that things actually seem to be working with your social media marketing program, Facebook or some other powers that be come along and change the game?
Is it just that you need to be focusing on the priorities of your business, and need a little help to manage the rest?
These are the types of things that social media management is for. As a social media manager, I take the time to keep up with the changes and to fill in the pieces that are challenging you, regardless of why they are a challenge.
TODAY'S SOCIAL MEDIA MARKETING AND THE TIME IT REALLY TAKES
Social Media is an important piece of maintaining an online presence today, and an effective and affordable marketing strategy for businesses of all types. But it does take time, and time is probably your business's most precious, and in-demand, commodity.
As a matter of fact, most respected online marketing experts believe that it takes a minimum of six months to start to see good results with any social media marketing campaign (and that for a well-managed, strategized effort that is regularly maintained over the entire course of the campaign). Social Media expert and educator Mark Timberlake puts the timeline out even longer, at 12 to 18 months.
Do realize that during this period you are slowly building and gaining momentum, followers, and that community of potential clientele—but only if you consistently post, target, engage, and maintain; and it's at that 6 to 12 to 18 month point that you start to leverage the cascade effect of social media marketing—where the real return on that time investment starts to show in much bigger ways. Are you able to maintain the necessary level, even the minimium level, to capture this effective, low-cost audience?
Account Creation
Writing & Post Creation
Page Optimization
Current Events, News, & Trending Topic Research
Editorial Calendar Creation
Community-Building
Cross-Promotion/Membership
Posting & Scheduling
Contest Promotion & Planning
Email or Contact Me Today!
STRATEGICIALLY FILLING THE SOCIAL MEDIA NEEDS OF YOUR BUSINESS
The point here is that results from social media marketing come from consistency and planning and strategically fulfilling a need for your customers. It takes time and commitment. And when you need a hand, that is where I come in—for any or all of the pieces that need handling for you.
Social media services for your business may look quite a bit different than the services provided for another. Because every business has their own unique set of needs and challenges. You may be in need of a whole-project social media manager for your business. You may just need someone to help out and take over a portion of the posting. You may only need some solid direction—perhaps a consultation package is for you; a roadmap to help you create effective posts and content.
Posting to Your Page
Developing Post Ideas
Post Creation & Topic Lists
Image Posting
Lead Generation/Funneling to your Off-site Website
Contest Creation
Comment Curation
Responding to Followers
Creating Your Page
Editing & Optimizing Your Page
Hashtag Research
Linking to Groups, Experts, & Articles of Interest
Identify New Platforms & Build Account & Community
Analyze & Review Analytics for Social Media Strategic Planning
Complete Social Management & Posting
Email or Contact Me Today!
CUSTOM-TAILORED SOCIAL MEDIA MANAGEMENT PACKAGES & A LA CARTE SERVICES
I provide a wide variety of social media marketing services, starting with one-time consultations or strategy-building, all the way to full management of your accounts to take that task off your to-do list. What's more, you can pick and choose the services you need, and I can build you a customized package to affordably deliver just the pieces that you are missing. These services often include, but are not necessarily limited to:
Account creation to match your business, message, and your brand
Post creation & writing
Profile page optimization for contact, mission, location, services, and more
Keyword research to optimize your pages for search
Trending/hashtag research for post targeting
Post/editorial calendar planning
Current events, news, & topic research
Community-building and outreach to help gain followers
Cross-communication and community building with related businesses and groups of interest
Contest and promotion planning & posting
Posting & scheduling
Full social media management for your business
BUDGET-FRIENDLY FLEXIBILITY
I offer flexible options for social media services and can work a tailored, budget-friendly package to suit your needs. Long and short term management are available, as well as assistance to help get your strategic plan up and running. I can work independently or in tandem with you and your business so that you can fill the gaps, build your online community, and capture the leads that your competitors are funneling from the various social media platforms of today.
Not Sure What Your Social Media Management Needs Are?
How can I help you manage your social media marketing needs? Everyone has a bit of a different need, and that's okay. Tell me more about your thoughts and your small business.
Let's work together to bridge the gaps in your social media marketing!
Ready to find out more?
Drop me a line today for a free quote!