Local Business Writing Services &
Local Search Engine Optimization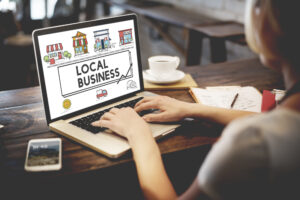 SEO for local businesses, while similar to general search engine optimized writing, has its own fine nuances. In many ways, local writing and local business writing is more complex, because not only are we working to get your site ranked at the top for its message, products, and services across the web, but we are also working to get it ranked above other competing local businesses, and that is something of a different search unto itself. With the advances made in today's voice search capabilities and GPS and location-based searches from mobile devices, the importance of optimizing your website specifically for local and location-based searches grows by the day.
DIFFERENT FIELDS OF COMPETITION FOR LOCAL SEO
In point of fact, your website's strategy for competing in the local marketplace starts with local business writing, but it really needs to extend beyond the words on the page in order to be recognized by Google and the big search engines as a reputable, reliable, existing business that Google wants to send searchers to; there is little Google likes less than being made to the look the fool by sending searchers on wild goose chases to businesses that never quite got off the ground or that have closed in the meantime—and little that customers like less, either!
DUAL-PRONGED APPROACH TO LOCAL BUSINESS WRITING & LOCAL SEO
I approach local SEO from two angles: first, from the angle of good, organic, time-proven search engine optimization strategies, centering primarily on optimized local business writing—words on the page that effectively communicate the "how" and "why" of your business, but that have been carefully planned to match user queries and rank well in search results; and second, from the angle of on- and off-page SEO factors.
These are factors and elements that need to be present both on your site and on select platforms throughout the internet—the places Google and its peers look to build their virtual "picture" of your business, that they use to assess and decide which businesses they trust and feel confident about pointing local searchers toward. It's helping point the ethereal search engines to the coffeeshop on the corner where Google now knows people can get a warm brew and a bite to eat; it's the specialty shop that carries that hard-to-find item, piece, or part; the pet supply store that can help you find that one brand of quality dog food that will finally solve your dog's digestive issues. It's the business listing returned when your customers ask for that "top shop near me," or the "best place to eat in Hardwick."
PERSONALIZED LOCAL SEO & LOCAL BUSINESS WRITING
My strategy for your specific local business will be based not only on your type of business, but also on your business's needs. As always, I provide a range of writing services for local businesses which include all of the services listed on the General Writing Services page, tailored specifically to you and your business.
Local SEO and business writing services may include, but are not necessarily limited to:
Local business website writing near Hardwick, MA and central Massachusetts
Local press release writing
Newsletters
Email and correspondence writing
Local SEO Keyword research and consulting
Local content strategy consulting and development
Local copywriter services in Hardwick and surrounding Central Massachusetts communities
SEO-enhanced product descriptions and copywriting
Local business report writing
Local outreach and promotional content materials
Local social media management, post development, content creation
Local social media planning and consulting
Basic website building via WordPress, Wix, and other basic website builders
For writing rates for local business content writing and other services, please visit here.
Local Business Content Writing
Local-Focused Search-Engine Optimized Writing
Local Business Website Writing
Copywriting for Local business
Local Search Engine Optimization
Analytics Management
Link-Building for SEO
Specialty Writing
eMails & Correspondence
Marketing Copy
Local Business Writing
Basic Website Building & Maintenance
Email or Contact Me Today!
Website Pages & Articles
Blog Posts
Emails
Google Analytics & Google My Business Account Creation/Maintenance
Directory Submissions
Review Management
Product Descriptions
Keyworded Local Content
Local Newsletters
Press Release Writing
Biography & Profile Creation
Editorial Calendars/Schedule
Content Production Consulting
In-House Manuals
Basic Website Updating
Email or Contact Me Today!
WORKING TOGETHER TO BUILD LOCAL BUSINESS SUCCESS
As a consumer and resident of Hardwick and central Massachusetts, I believe deeply that our local businesses—and their success—matters.
Local businesses are the backbone of our communities, our local economies, and in fact, our nation and its economy, too. Small, local businesses make up an estimated 99.9% of U.S. businesses according to the U.S. Small Business Administration. That is a lot of local power and a very important piece of the health of first our local communities, but also the state of the nation overall.
Along with this belief in the importance, viability, and sustainability of local small businesses comes a desire to help them succeed. I am committed to doing my part to find the ways to put my local content, writing, and local SEO services to work for you in a way that is affordable for you and your business. I strive to find a budget that works for you while we implement the content and optimization strategies that will solidify your website and your local business's web presence, for both online and offline and brick-and-mortar success.
We can work in stages or we can do it all at once—whatever fits your needs and your budget the best, beginning first with what we determine together to be your business's most pressing needs. This may mean helping you select the right package amongst my offerings, or it may mean we chat and work out a personalized package and pace of work that fits your business and its budget a bit better.
I believe it takes a local to know a local business, to capture your business, and then communicate it in a way that is relevant and inviting to your local clientele. Let's work together for the good of your local business, and in turn, the communities in which we all live, together.
Let Me Hear About YOUR Local Business and How I Can Help!
Whatever your needs, I am very interested in learning more about your local business and how I might help you. Contact me today and let's start talking!
Let's work together for you AND for our community!
Ready to find out more?
Drop me a line today for a free quote!