Writing & Social Media Management Rates
Provided below is a general table of rates for SEO writing services and social media writing and management services. Rates are based generally on a per-word basis, but projects are always quoted and billed on a per-project basis. Why? Because basing my freelance writing services on a per-word rate gives me a framework on which to base my work, but quoting and billing you on a per-project basis makes it fairer and more predictable to you, my valued client.
KNOWN RATES, KNOWN BUDGET, KNOWN BILLING—BEFORE THE PROJECT STARTS!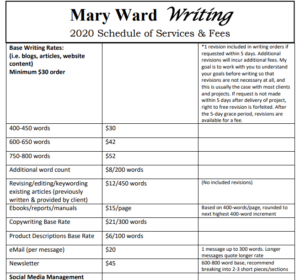 In the writing world, projects are typically "ordered" and designed with some idea of word count in mind. However, delivering quality website content, articles, and copywriting to an exact number of words never really happens. In over thirteen years of working as a freelance website and content writer, having researched and delivered countless hundreds of individual pieces and larger works including ghostwritten eBooks and reports, I've come to a pretty fair understanding of the time it takes to produce various types of client projects based around the size (word count). This means that I can reasonably quote a project based on size and word count, but also provide you with a firm, budget-friendly number that leaves you knowing exactly what your bill will be. You will know upfront what my bill as your SEO content or website writer will look like—no surprises!
One thing I can promise is that you will always receive the MINIMUM word count agreed upon; if you order a project estimated to require 400 words, you will never get 399. You might get 500. You will pay only for the 400 you asked me to provide.
Contact Me to get started. Let's find a budget-friendly plan for you!
RATES PROVIDED FOR ESTIMATING PURPOSES
I provide these basic rates to give you an idea of what it costs to hire a writer for your website, content, and social media marketing and management. Every project, however, like your own business, is unique. This means that I tailor project rates based specifically on YOUR business, and YOUR project. There is no boiler-plate one-size-fits-all that will serve every business well; there's not even a template to prescribe the exact pages that every business, farm, or website needs...not if we want to optimize your message and your website to successfully and effectively communicate with your client and customer base.
Various factors like topic and project type (article, web page, eBook, email, sales page, etc.) all impact the length of time it takes to craft and deliver quality content and writing because the time investment in things like research and creativity, not to mention search engine optimization and research for keywords to make your site perform, take varying amounts of time for varying projects. It matters what material you plan to provide yourself, and how much needs to come from me in the form of grassroots research.
Is yours a project that is based solely on published research?
Does it find its base in your own thoughts and it's to me to form those into the words on the page?
Will your project involve interview time with you and/or other members of your farm or business?
Will we meet in person?
Will we primarily manage your project online through email exchange?
Click here to Open the PDF: 2020 Writing, Website, & Social Media Rates
You can see how vast the possibilities and combinations can be. So no, while I can't simply quote a flat rate for a flat order, I can give you an idea of where my rates for content writing services will start. Then we will discuss the options and flexibilities from there.
PROJECTS OF ALL SIZES WELCOME
Some of us are starting from scratch and need a whole website written, page by page. Some of us have websites we've done our best with, but that still don't seem to perform. Some of us are bloggers in need of an extra pair of fingers. Some of us need articles to bolster our blog or website's performance and to connect with our customer base.
Some of us need website content or even flyers and handouts to help educate our buying public to build ourselves a new type of buying base. Some of us have the budget to tackle it all at once. And some of us need to divide up the work to fit the budget.
Whoever you are, whatever your needs, we can formulate a plan that works.
LET'S TALK ABOUT YOUR PROJECT!
It is my goal to make quality content writing services available to all clients, and my dream to work more exclusively with local businesses, local and regional farms, and agricultural ventures.
I want to be YOUR website writer; YOUR content writer.
I want to craft your personal and unique business message through your website and through the tone and type of content that we produce. I can't say I can do any project on any budget, because I can't promise to produce good content and search engine optimized writing for pennies. But I can promise that I will do my best to work with you to create a plan that is manageable, whether all at once or broken down over time so that good SEO content writing so important to your business or farm is within reach.
Contact Me. Let's talk today to see how I can put my various website, content, copywriting, and social media management services to work for you.